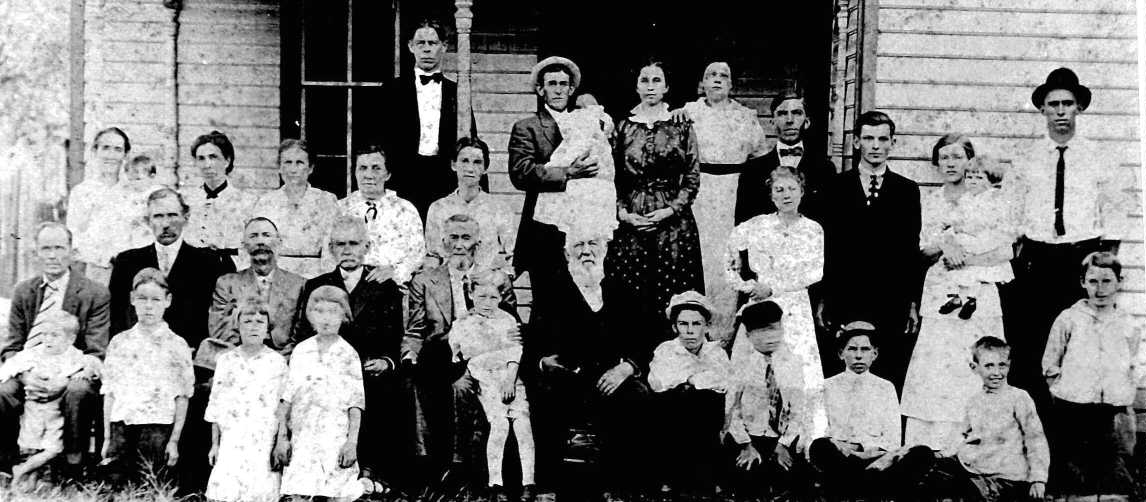 1st Row (Children) - Odie Rash, Bill Phillips, Mary Frances Phillips, ? Robinson, Johnnie Phillips (in lap), David Phillips, ? Robinson, Herman Walker, Roy Rash, John Rash
2nd Row (Seated men) - Warren W. Rash, William H. Walker, Johnnie Davis, John B. Vannoy, David Dinsmore Davis,
John Ray Rash
3rd Row - Lizzie Rash holding Maudie Rash, Kate Walker, Fannie Davis, Ella Vannoy, Betty Phillips, Katie Robinson, Dave Rash, Sybil Teague holding Gaynelle Teague, Henry Teague.
4th Row (on porch) - Will Phillips, ? Robinson, (baby) ? Robinson, ? Robinson, Mattie Ray Jones, Odis Walker
Notes: The date of this picture has been determined as late 1916 or early 1917 because of the apparent ages of the two girls being
held by their mothers, Maudie Rash b. 2/1/1916, and Gaynell Teague, who was a few months older than Maudie.
The photo is thought to have been taken at the home of John Ray Rash, in the Grapevine area of Hopkins County, Ky.