---
1808 Hopkins County, Kentucky Tax List PDF
Hopkins County, Ky. was formed in 1807 and this is the second tax list for this county in Western Kentucky. Much of the land area that is now Webster County, Ky. was a part of Hopkins County in 1808.
View the index
for a list of surnames included. This list has been transcribed from microfilm.
371 taxpayers are listed, and there are total 566 entries (some taxpayers owned more than one piece of property.) Information in each entry is the name of the taxpayer, acres, county the acres were in, water course near acreage, in whose name entered, in whose name surveryed, in whose name patented, number of white males over 21 years old, number of white males 16-21 years old, blacks over 16 years old, all blacks, mares, and stud horses owned.
There are 19 pages in the tax list, a surname index, an index of the water courses, an index of counties mentioned, and a list describing approximate locations of the water courses mentioned in the list. A great resource for genealogy researchers!
| | |
| --- | --- |
| 1808 Hopkins County Kentucky Tax List - $3.00 | |
---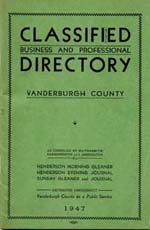 This CD contains 73 scanned images of the 5.5 inch by 8.5 inch 1947 booklet and is a fantastic resource for historians or genealogists!
The following officials are named: County officials; City officials; members of City Planning Commission, Board of Zoning Appeals; trustees of Locust Hill Cemetery and Oak Hill Cemetery; employees of Dept. of Finance, Dept. of Law, Dept. of Public Works, Dept. of Safety, Dept. of Buildings, Dept. of Health, Dept. of Public Parks, Dept. of Aviation, Dept. of Waterworks. Here are some entries to give you an idea of the information included.
Pentecostal Church - Sunday School 10 a.m. Sunday service 7 p.m. Saturday service 7:30 p.m. Monday broadcast over WGBF 11:30 to 12:00 p.m. Jerry Padlock, pastor. Ninth & Cherry Streets. Phone 2-6926.
Cotton's Tavern - Drop in Cotton's for friendly service. Beer, wine, liquor. Prompt and efficient service. Conveniently located, one block from the Coliseum. "Cotton" Lutz, proprietor. 400 N. W. 4th, phone 3-0716.
1947 Vanderburgh County, Indiana Business Directory CD - $5.00


(includes shipping)

---